Saint Anthony Altar & Rosary Society
Our Mission Statement
The purpose our Society is to cultivate and promote a greater devotion to Our Lord in the Most Blessed
Sacrament of the Altar through Our Lady as Queen of the Most Holy Rosary, as well as to secure the
adornment of the Sanctuary. In addition, we work with other organizations to help promote various parish
activities, and as a group, are members of the Diocesan Council of Catholic Women of Des Moines.

Meetings
Our monthly meetings are held on the first Thursday of the month with the exception of June, July and August. We begin our meetings at 6:00pm with recitation of the Rosary, located in the main church, followed by our regular business from 6:30pm – 8:00pm in the lower church.

Join
Women who are 18, members of our parish and are in good standing with the Catholic faith may become a member of our Society. Each member is asked to pay a yearly due of $5.00. Women may join our organization any time during the year.

Events
We participate in the Holy Sacrifice of the Mass offered for our Society and deceased members the first
Sunday of each month at 8:00am.
Our Annual Craft and Bake sale takes place the first weekend in December. All proceeds from this
fundraiser goes towards the costs of items not covered by our dues.
Our May Crowning, of the Blessed Mother Mary, and breakfast takes place the first Sunday in May,
at which time our new officers are installed.
We work with the Knights of Columbus and other parish committees on various events where we supply baked goods for dessert.
Our Society and the Knights of Columbus have an Annual family Christmas potluck dinner in early
December.
Contact
If you would like to learn more about our Society, or how to become a member, please contact our
President, Michelle Fournier at: email stanthonyaltarandrosary@gmail.com. Phone #: 515-943-7087
Upcoming Events
ALTAR & ROSARY SOCIETY
MEMBERSHIP DRIVE
September is the Membership Drive!!!
Altar & Rosary is asking all current members to please renew their membership and invites all ladies of the parish 18 years and older to join their organization. Please download our membership pamphlet along with the list of the exciting monthly speakers. For more information please visit our Facebook page.
(Members Pamphlet) (Monthly Speakers)
Septiembre es nuestra membresía Drive !!! Altar & Rosary está pidiendo a todos los miembros actuales que renueven su membresía e invita a todas las damas de la parroquia de 18 años o más a unirse a su organización. Descargue nuestro folleto de membresía junto con la lista de los emocionantes oradores mensuales. Para obtener más información, visite nuestra página de Facebook.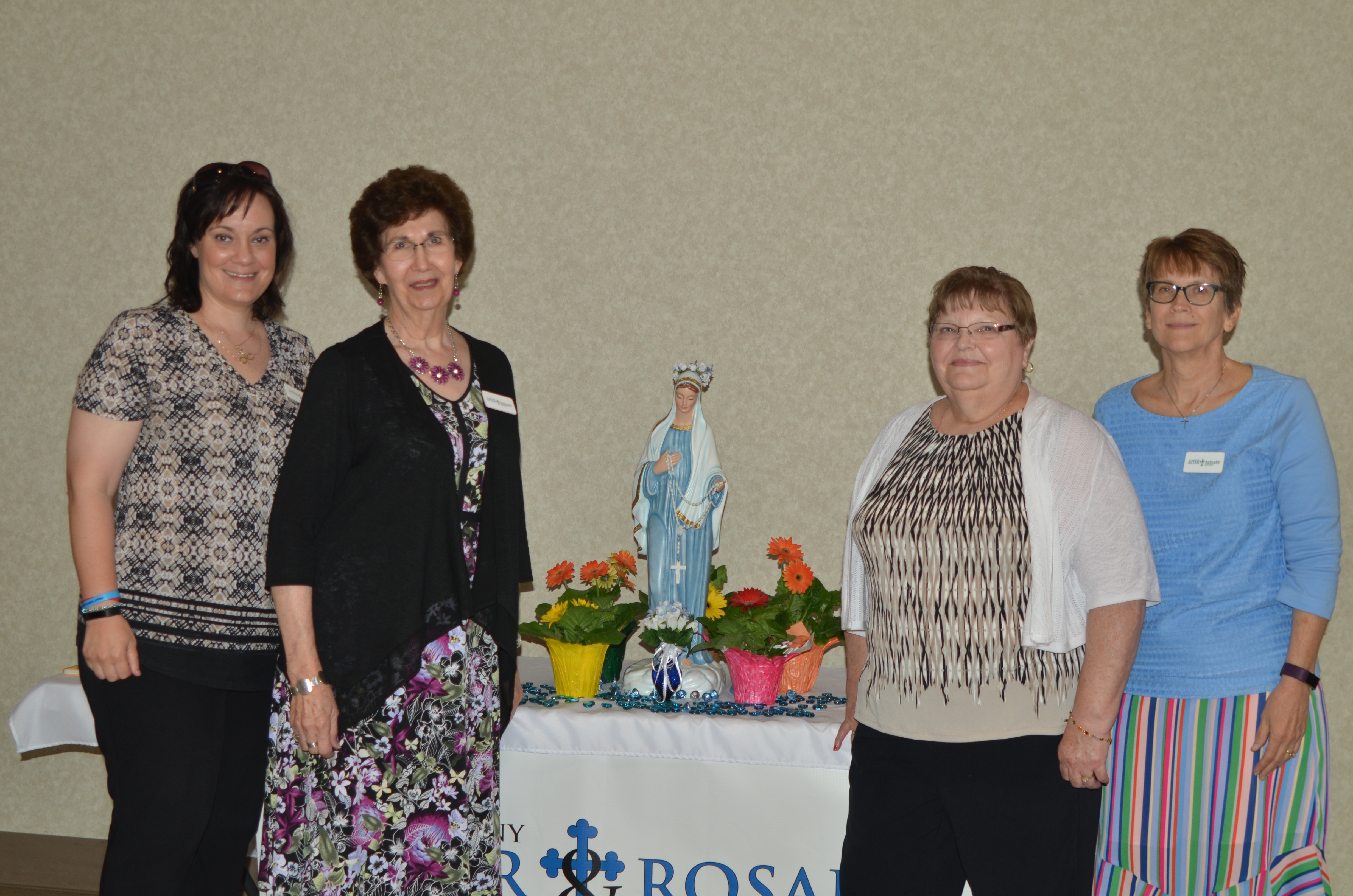 Our 2018/19 Officers Are:
From Left to right,
Michelle Fournier - President
Ellen Celsi - Vice President
Donis Cariglino - Secretary
Sue Augustin - Treasurer