The Altar and Rosary Society invites all women of our parish community 18 years and older to join our organization. Formed in 1958, we are the oldest organization at St. Anthony as well as one of the most active and rapidly growing organizations.

As members of the Altar and Rosary Society, our objectives include:

1. Cultivate and promote greater devotion to Our Blessed Lord through the Queen of the Most Holy Rosary
2. Furnish the adornment of the Altar and Sanctuary
3. Promote activities within our parish community.
4. Support the needs of our community as Charitable Stewards of Jesus Christ.

In addition, here is a partial list of our ongoing activities:
1. Offer a monthly Mass for all living and deceased members of the Altar and Rosary Society. This is held on the first Sunday of each month, beginning with the Rosary at 7:25 AM.
2. All available members participate in the Rosary offered at the funeral home upon the death of a member as requested by their family.

3. Bake and decorate cookies for the St. Vincent de Paul Christmas baskets.

4. Supply homemade desserts for the annual Knights of Columbus Lenten Fish Fries.

5. Run and bake for the Parish Annual Fall Festival Bake Sale.

Meetings are held on the first Thursday of every month with the exception of January, June, July, and August. Meetings begin in the lower Church at 6:00PM with the Recitation of the Most Holy Rosary of the Blessed Virgin Mary. Our Business Meeting is then conducted from 6:30PM-8:00PM.
Our Officers for the 2017/2018 calendar year are:
• Frances Ali - President
• Jody Hunter - Vice President
• Sue Augustin - Treasurer
• Mershell Putnam – Secretary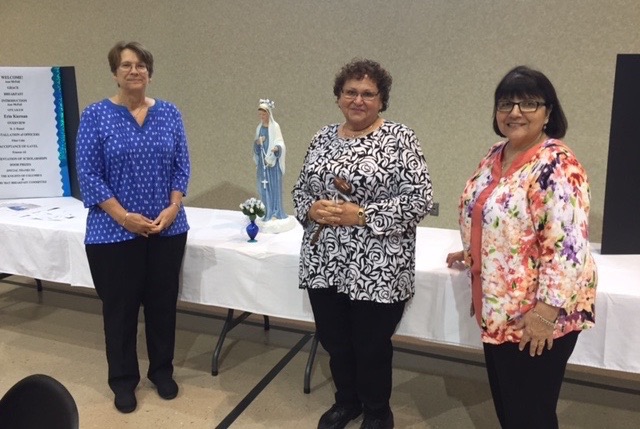 From Left to right, Sue Augustin, Treasurer, Frances Ali, President and Jody Hunter, Vice President. (Secretary Mershell Putnam was unable to attend.)
For more information about our organization or how to join, please contact our President, Frances Ali by phone at 657-3354, or email to:




ali.fran.4xmom@gmail.com





Or, print out our

membership information

and

registration form

.
Upcoming Events:
Monthly Meeting:
Thursday, April 5th (Rosary at 6:00PM, followed by our monthly meeting).

Elections for the new officers will be taking place during our meeting. You will need to be present at the meeting to vote.