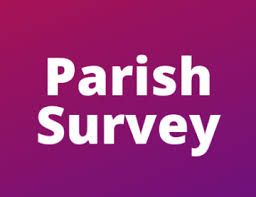 Parish Survey Results
Parishioners:
On April 12th the Parish Vision Committee sent all households, both active and inactive, a survey in hopes to gain valuable feedback as to our parishioner's opinions on a variety of topics including why (or why they do not) attend Mass, our strengths, and areas needed for improvement.
After reviewing and interpreting the results, some of the most significant findings of the 4328 responses include:
90% of respondents state they are either very or somewhat satisfied with the Mass they attend and being a part of St. Anthony's Parish. This is a very good and strong positive percentage for any parish, and gives us encouragement as we continue our mission.
Our parish has three unique communities (Anglo, Spanish, Latin Mass). We need to continue to explore ways to blend all three groups to form one cohesive parish while at the same time respecting and appreciating the unique characteristics of each group. These groups have unique needs and there was limited interest in among the groups in trying to blend everyone together.
Our mission to provide Catholic education to our parishioners and our youth needs improvement, especially the PRE program. Nearly 80% of respondents who have school age children do not send their child(ren) to our school or the PRE program.
There were numerous comments expressing a desire for us to offer a wider variety of days and times to receive the Sacrament of Reconciliation. There were also requests for us to have at least one evening English Mass return during the week.
Many of the responses confirmed what I and others suspected, while other issues were brought to our attention. The Parish Vision Committee and I will continue to work together to find solutions where possible.
Here are just a few of the actions we are already taking as a result of the survey and YOUR input:
Develop and implement a strategy to allow each of the "three communities" to retain their identity without feeling like they are being forced to interact with another. Exceptions will be made for limited significant parish events (i.e., Corpus Christi, Feast of St. Anthony, etc.).
The PRE program must be overhauled to better support both the Anglo and Hispanic communities and increase its participation, and this effort is currently underway.
We are looking to add a weekday (evening) option to receive the Sacrament of Reconciliation. There was also some sentiment to add a weekday evening Mass. The two could possibly be done together.
The Parish Vision Committee has already formed groups to address the 4 Pillars of our Parish Vision Plan – Prayer, Hospitality, Discipleship, and Evangelization – and the parish is already seeing many events and changes form as a result.
With our groups, we are working on the obvious action items from the survey – i.e. those that need help regarding some aspect of our parish (registration, Catholic instruction, etc.), those that want to be more involved, and other action items that came out of the survey.
I want to thank everyone who took the time to complete the survey. The information provided was valuable and will help us continue to grow our parish and make it stronger. For the full results of the survey, please click on the link in the left column.
God Bless You,
Msgr. Frank Chiodo