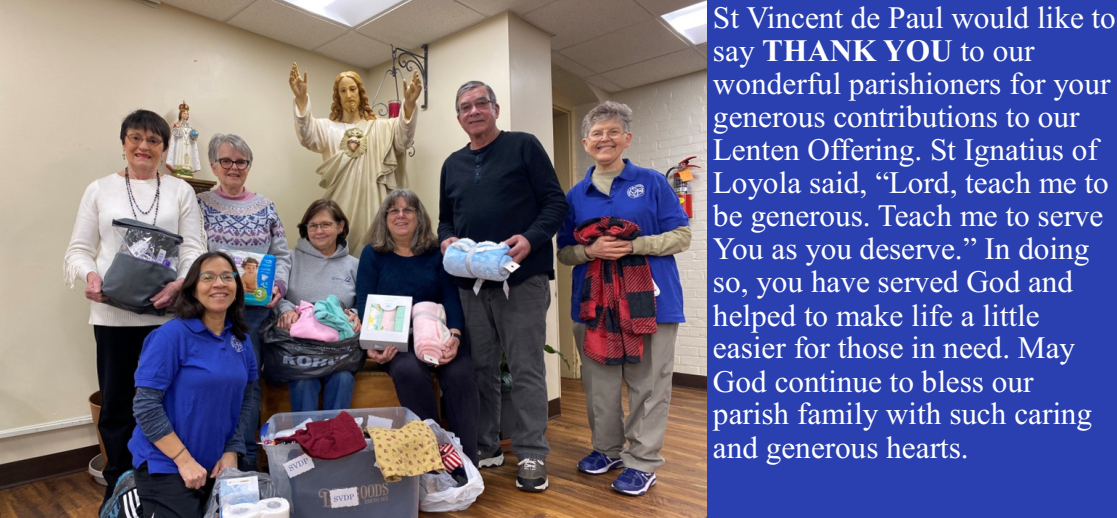 THANK YOU! St. Vincent de Paul Givers!

St Vincent de Paul Committee would like to say thank you to our wonderful parishioners for your generous contributions to our Lenten Offering. Your Lenten Offerings were abundant in nature! St. Ignatius of Loyola said, "Lord, teach me to be generous; teach me to serve You as You deserve." In doing so, you have served God and helped to make life a little easier for those in need. May God bless you and your loved ones for making this Lenten Season a time of true charity, which is love of God and others.

We would like to share a few thank you letters from the charities that received our contributions:

Des Moines Catholic Worker House: Dear Friends, Thank you! And God Bless you for thinking of our guest and house during these tough times with all your help! Our guest and community are very grateful for all your prayers and support and we wish you a safe, happy, warm Lent! Many thanks again for all you do, be well and much peace and hope!

Society of St Vincent de Paul: Thank you for your donations for the food pantry. It is through contributions such as yours that we can continue to serve people in need. Your kindness and generosity make this work possible, and for that we are truly grateful. On behalf of those we serve, we thank you again.

Bidwell Riverside Center: We sincerely appreciate your donations. Your donation will be put to use immediately as we work to provide food and childcare to Iowans in need. We are truly grateful for your support!

Saint Anthony's St Vincent de Paul Ministry
Meetings are every month on the 2nd Monday at 6:30pm, located in the lower church at St Anthony. All are welcome!
St. Vincent de Paul
St. Anthony Conference Membership

As a member, you can help feed and shelter the poor. When you join, you can decide the level of time or donations you can give. Maybe you may want to help make meals that are delivered once a month. Maybe you may want to make a commitment to give regular donations in the "Poor Box" located in the church—these donations fund the work. You might even have the time to come to the monthly meetings to help plan meals and giving. Even if you can only come to a few meetings—anything will work.
"Many hands make light work." Joining is easy and the reward is great. Send an email to Janet Goode Nana41@q.com 515.953.1335.
Upcoming Events
Each month members provide meals for the Catholic Workers House.

During Thanksgiving and Christmas basket of meals are provided to those in need at our parish.

Giving Tree is also created so that members in the Parish may contribute a gift for the children.
Our Mission
The mission of the St. Anthony St. Vincent de Paul committee is to serve the poor. We help find beds for the homeless, bus tokens, food for the hungry and serve other groups that help the poor. We…
"Extend mercy towards others, so that there can be no one in need whom you meet without helping. For what hope is there for us if God should withdraw His mercy from us?"
– St. Vincent de Paul
Vincentian reflections are a good guide for Vincentian meetings and discussions. The year is divided into easy to manage quarters for download.

Serving in Hope is a new spiritual formation program developed by the National Office, for the Conference and Council level. Vincentians must be accustomed to "serving in hope," because we are called to bring the love of God to those who are poor and suffering.

Members
Sandy Agey
Michelle Bunkers
Ellen Celsi
Patty Corrice
Janet Goode
Lesvia Juarez
Nancy Kaili
Kathleen Klinge
Julie Konkol
Ann McFall
Dr. Greg Peterson
Ramona Peterson
Deacon Tony Romeo
Sharon Romeo
Sally Smith
Mary Ann Wilkinson
Jean Willard
Helene Wilson
Joe Zerfas