What's Happening? Check out the different online activity going that you can participate in during this time of being apart.
Public Masses Cancelled




Coronavirus Letter From the Iowa Bishops



In the face of the unfolding coronavirus COVID-19 epidemic, there are temporary changes until further notice. All Public Masses, events and meetings are cancelled. Please reference this home page, sign up for our Enews and download our mobile app to keep up to date.

Weekday Mass: Mon—Fri 8:30am English & 10:00am Spanish. Thurs., 7pm Spanish. Sat 8:30am English

Weekend Mass: Sun. 9:30am Latin (EF), 11:00am (Solemn Mass with Incense), 1:00pm Spanish.

Eucharistic Adoration: Has been moved into the church to avoid close contact. Please pray for God's mercy and healing. Pray for protection and for those that are ill.

40 Day Rosary: Daily 5:30PM English, New 40-Day Rosary and Litany begins 4/27

Reconciliation: Confession may not be
celebrated in common, but only individually. No specific times are set, to avoid larger crowds. The Holy See has authorized pastors to use discretion
and provide "Collective Absolution" in moments of pastoral necessity.

Funerals: Please contact a funeral home and they will notify the parish office. Per the Bishops order during the coronavirus crisis, funerals will be limited to 10 people in the church.
Parish Office Hours have been changed to 8am - 12pm until further notice. 515-244-4709
What's Happening in the Parish?!
Welcome to St. Anthony Parish

Pentecost
Sunday, May 31st, 2020

My Dear Parishioners,

Congratulations to our graduating eighth graders. There was a wonderful gathering on
the school grounds for our large group. God bless our graduates and may the Holy Spirit be their guiding light for the future.

Plans continue to be made for our Corpus Christi procession on June 14th after the 11AM Mass. More details are in the bulletin. Remember: The Procession is in motorcade this year, so call the office to secure a place for your vehicle if you would like to participate. We will stop at MacRae Park for the Solemn Blessing over our city. You can see the route in the flyer or online.

This week is the Annual Priests' Retreat. While the Conception Abbey is closed and there will be no formal retreat, Fr. Dolan and I will be out of the parish for a retreat time. Please remember us on Monday through Wednesday of this coming week.

This is Pentecost Sunday. Please remember to specifically pray to the Holy Spirit during these days of this week—the Octave of Pentecost. May the Holy Spirit send forth the fire of healing and deliverance to free us from the scourge of pandemic and set us free to serve the Lord in joy.

God bless you


Monsignor Frank E. Chiodo
Pastor
Feast of Corpus Christi by Motorcade
June 14th after 11AM Mass

Join us for our yearly celebration of the Most Holy Body and Blood of Christ either online or in the motorcade. The online Mass will begin at 11AM and following the Mass the Most Holy Eucharist will be processed out of the church by Monsignor Chiodo and Fr. Dolan to the Grotto. They will lead the motorcade rout to bless Des Moines (Starting approximately 12pm). You are welcome to join us in the motorcade for this long held tradition, but you must register your car

(see registration)

. To watch event online go to

St Anthony Facebook page.
Continued Giving:
Many people have contacted us asking how to make their weekly tithing contribution and/or ADA contribution when Masses are cancelled. We encourage parishioners to utilize our online giving program. Look for the green dollar sign in the top right corner of this page and click to go to our online giving page. You can also mail to:


St. Anthony Church,

15 Indianola Rd.

,

Des Moines, IA 50315



NEW...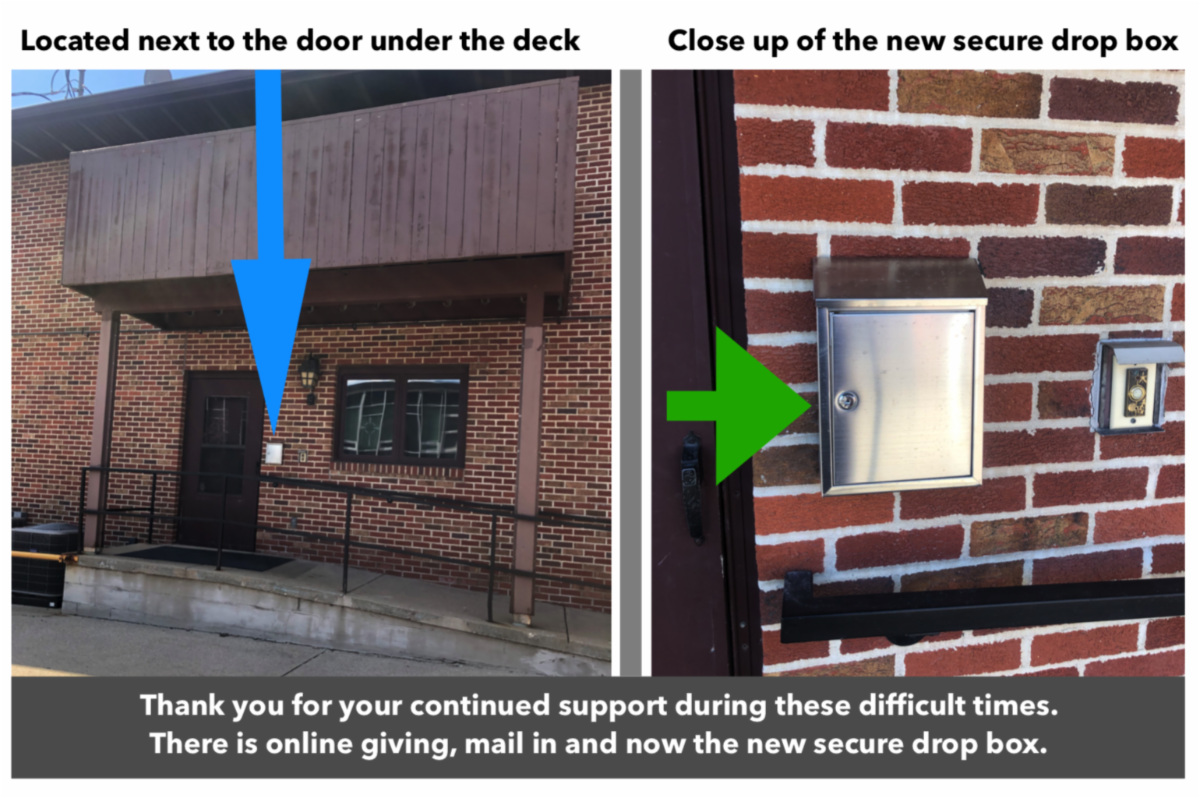 There is a new secure mail box located on the north side of the Rectory next to the door (under the deck, up the ramp) if you would like to deliver a donation.

We would like to thank all of you who continue to make your weekly or monthly donations to our great parish!

We appreciate your generosity!
Download Our Parish Mobile App Today!
Just click on the icon to the left, download the appropriate version of the app, open and search for St. Anthony Catholic Church, save it as your favorite, and you're done!
Pastor's Corner - Join the New Evangelism with Monsignor!

Monsignor's Chiodo wants to give you many ways to experience worship and deepen your faith at St. Anthony Parish:

First, we have a live feed from St. Anthony for anyone wishing to view. With the Pandemic situation, we have Masses live on a daily basis including Sunday, as well as other services.
Next we have short faith filled videos called "Heart's Journey" that are being produced each week. Mini sermons - Why? Fewer and fewer people go to church, yet they are online. Monsignor wants to reach them.
Next, we have short Blog posts from Monsignor on various topics of Worship, and also Blog posts on important topics/people/updates within our parish family.
Finally, we have Audio Podcasts available to deepen your faith.
Join Monsignor in the mission for souls!
Use these links and pass them on to friends and family!
Our Mission Statement: To make life-long disciples, baptized in the name of the Father, the Son, and the Holy Spirit, and teach them in all aspects of the One, Holy, Catholic, and Apostolic Church.