School Mass Every Wednesday at 8:30AM
The 11:30AM English, and 1PM Spanish Sunday Masses, and Daily Rosary can be viewed online
Rosary Prayed and broadcast Online every day at 5:30PM, 3PM on Sunday
Every day someone is at St. Anthony to pray the Rosary and everyone is invited to join online for this powerful and needed prayer. Pray with us. Together we can impact the world.
Eucharistic Adoration Scheduling: Contact an Adoration leader for a time: Jo Corigliano 515-419-1800, Juan A Garcia 515-419-0453, Elizabeth Zamora 515-229-7723 or Vivian Loza 515-770- 7047.
Parish Office Hours:
Monday - Thursday 8AM to 4PM, Friday 8AM to Noon. Parish Phone 515-244-4709

SACRAMENTS
Baptism: Baptism is conferred by appointment on the 1st and 3rd Sunday of the month. At least one parent
must be registered and a practicing member of the parish. Parents are requested to call the office (244-4709) to
register for the pre-baptism class and date for baptism.
Marriage: At least one of the parties must be registered and a practicing member of the parish. Please contact
the office at least 8 months prior to the proposed date of the wedding.
Funerals:
Please contact a funeral home and they will notify the parish office. Social distancing protocols must be maintained.



Please Pray For

Faithful Departed
Alfonso Cariglino
Ann Costanzo
Alicia Duran Duran
Isaias Hernandez Ramirez
Fernando Martinez
Evangelina Meza
Gustavo Salcedo
Maximiliano Salcedo
JoAnna Schmeling
Martina Villavicencio

Sick
Jose Aguayo Berumen
Victor Alonso Ibarra
Antonio Casillas
Carlos Duran Hernandez
Rosa Hernandez
Susana Hernandez
Alexis Honorato
Sara Rojas Gil
Claudia Reyes Perez
Vanesa Saenz
Pete Tursi





Welcome to St. Anthony Parish
Week of June 4th, 2023

WELCOME
If you are new to our faith community and are interested in becoming a member of St. Anthony Catholic Church, please stop by the parish office or call 515-244-4709 or go online to StAnthonyDSM.org to fill out a "New Member" form.

BIENVENIDOS
Si eres nuevo en nuestra comunidad de fe y estas interesado en convertirte en miembro de la Igesia Católica de San Antonio, pase por la oficina parroquial o llame al 515-244-4709 para obtener un paquete para nuevos miembros, o ingrese en linea a StAnthonydsm.org para completer un nuevo formulario de miembro.
Fr. Chris Reising, Pastor
Fr. Rodrigo Mayorga, Parochial Vicar



Dear Brothers and Sisters in Christ,

This weekend we celebrate Trinity Sunday it is the first Sunday in Ordinary Time after the Easter Season. It is a gift to believe in the Triune God. If you look to the Athenians, St. Paul at the Areopagus pointed out that they had an altar inscribed, "To an Unknown God" (Acts 17), which indicated that they knew there was one God, but they did not know God. Philosophy had led them to the knowledge that there is only one God, but philosophy will not reveal who God is.

To know God comes from God's revelation to us, namely in the person of the Son who became incarnate and revealed God to humanity. It is only through Jesus that we can know the Trinity. Jesus, the Son of God, the second person of the Trinity, reveals the Father and the Holy Spirit to us, thus revealing the Triune nature of God. It is faith that enables us to believe in the God as Father, Son, and Holy Spirit. It is a supernatural faith which is a gift from God.

What does this mean for us? First, we must look at the Trinity in as much as we can. There is one God in three persons, Father, Son, and Holy Spirit. God is a community of persons. We must say that each person is distinct from the other persons, i.e. The Father is not the Son or the Holy Spirit, The Son is not the Father or the Holy Spirit, and The Holy Spirit is not the Father or the Son. All three persons are equal in divinity, the Father is God, The Son is God, and the Holy Spirit is God. God is one nature three persons. In other words, one "what" God, and three persons, who(s) Father, Son, Holy Spirit. How God can be three persons in one God is beyond our understanding. Even St. Augustine said we call them persons because we do not know what else to call them.

God in his essence is love. St. John says, God is Love. Look at the Gospel today, it is John 3:16, "God so loved the world that he gave his only Son, so that everyone who believes in him might not perish but might have eternal life." God loves us more than we know. He created us. Unfortunately, we have sinned, we have gone against his love, and he shows mercy, he comes to our rescue. The Son is sent to redeem us, and the Son sends the Holy Spirit to guard us in the love of God.

Look at the world we live in! Do people really know the Love of God? Do you know the love of God? Do we realize that everyone is made in the image and likeness of God. As baptized, when we live in the state of grace, i.e., no mortal sin, God dwells in us, loves in us, leads us and guides us. Also, as Christians, we are called to love everyone as Christ to see Christ in everyone even if they do not live like another Christ.

If we want to change the world, the first place to start is our self, to change our heart, to make it a true dwelling of the living God. It starts with belief in Christ. It means living what we profess. Professed belief without actions is nothing more than good ideas. They need to be put into practice. The practice of faith is the use of the sacraments, and our prayer. Think about how we can talk with all three persons of the Trinity together, or we can pray to each one individually. Prayer is our relationship with God. It is that ongoing conversation between the lover, God, and the beloved, us. He is faithful always to us, and all he asks is that we be faithful to him.

Spend some time talking with God and marveling in the great mystery of the Trinity and how blessed we are to know God, Father, Son, and Holy Spirit. Let him know what is on your heart, and tell him how much you love him.

God Bless,
Fr. Chris
Upcoming Parish Events
SAY 4:12 - SA Youth Group - St. Anthony Church Music Room - enter at circle drive door. 1st and 3rd Wednesday of every month!

click here for more details



Bingo Night - 7PM, Parish Hall - Join us for a family fun night of Bingo every first Friday of the month! Concessions available for purchase. Prizes available. All proceeds go to St. Anthony School. Questions contact: Harry 515.777.6582

Corpus Christi Eucharistic Procession - June 11 Grott Bilingual Mass 11:30AM

St. Anthony Feast Day - June 13 - Bilingual Mass 6PM - Potluck to Follow/Convivio de "Traje" despues de Misa

Vacation Bible Study - Estudio Biblico de Verano para Ninos - June 26-30 and July 10-14 - 8AM to 3PM - Grades K-5 - Register by June 21st and July 5th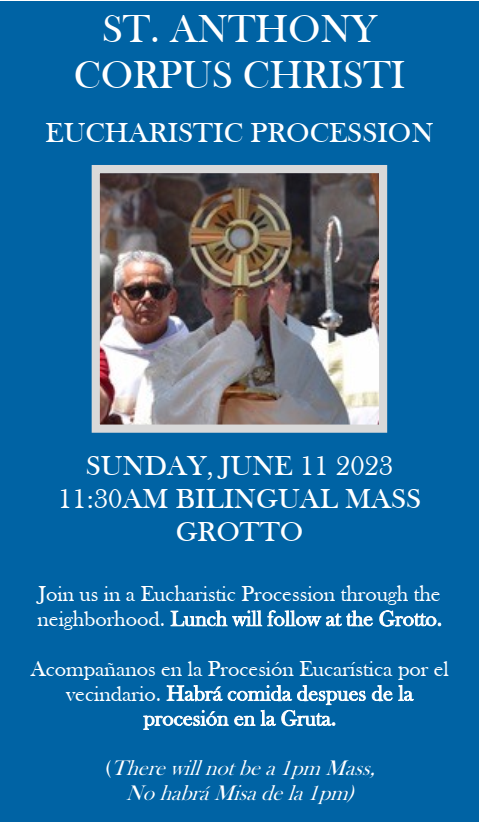 Download Our Parish Mobile App Today!
Just snap a photo of the QR code to the left on your mobile device, and it will take you to the appropriate MyParish mobile app download for your particular phone - once the app is downloaded, it will automatically take you to the St. Anthony specific app.!
Our Mission Statement: To make life-long disciples, baptized in the name of the Father, the Son, and the Holy Spirit, and teach them in all aspects of the One, Holy, Catholic, and Apostolic Church.