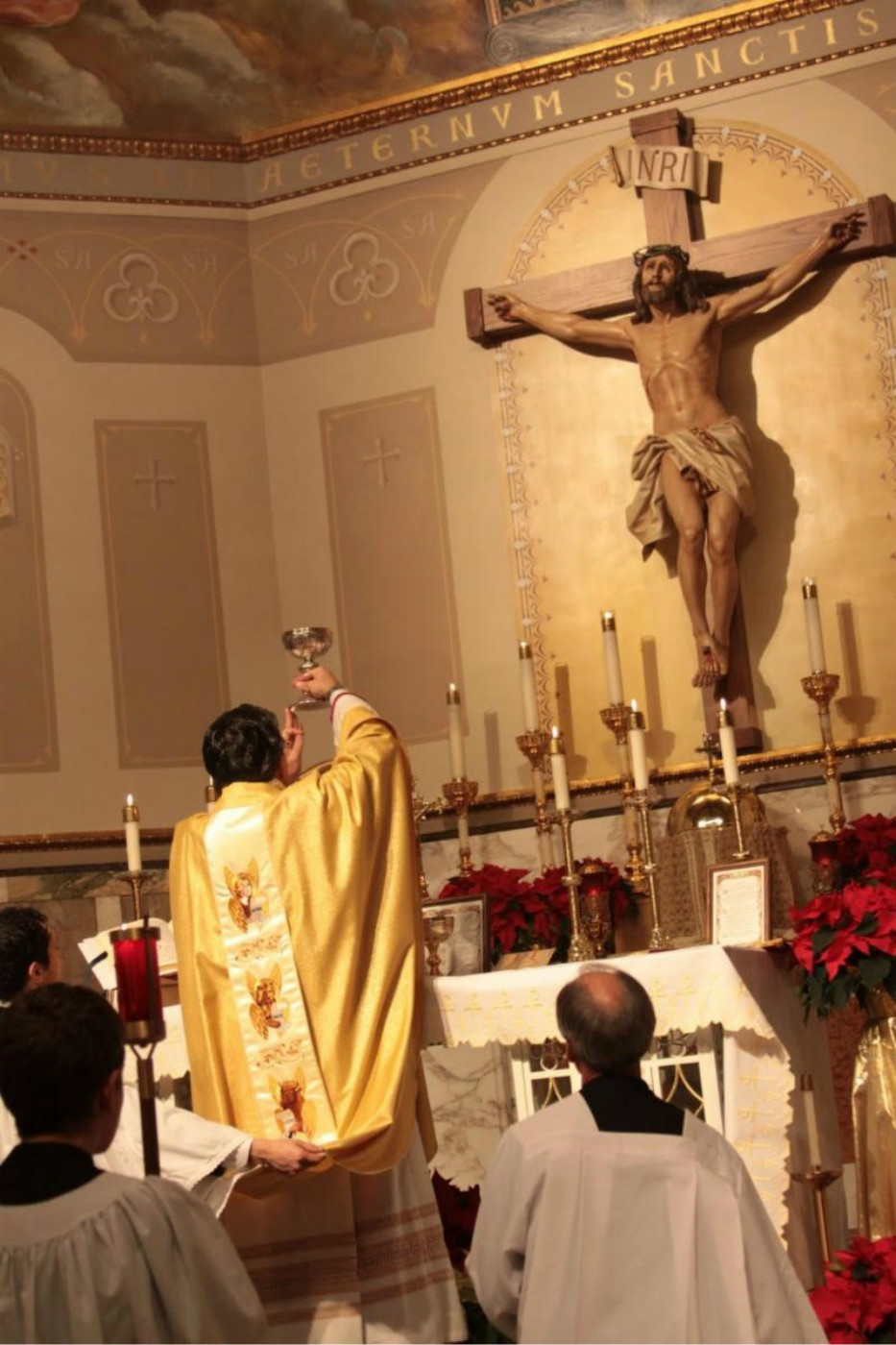 WEEKDAY MASS TIMES
Monday - Saturday 8:30am English
Tuesday & Thurs. 7:00pm Spanish
Daily Masses can also be viewed online
SUNDAY MASS TIMES
Sat. Vigil Mass: 4:00pm
Sunday Mass Times:
8:00am English Church
8:00am Spanish Parish Hall
9:30am
11:00am
1:00pm Spanish

The 11AM, and 1PM Spanish Mass can be viewed online

Rosary Prayed Online every day at 5:30PM, 3PM on Sunday


Eucharistic Adoration: In the Adoration Chapel beginning at 9:15AM - 8PM every Monday through Friday. Please pray for God's mercy and healing. Pray for protection and for those that are ill. Contact an Adoration leader for a time: Jo Corigliano 515-419-1800, Juan A Garcia 515-419-0453, Elizabeth Zamora 515-229-7723 or Vivian Loza 515-770- 7047.

Rosary: Daily 5:30PM English, Faithfully everyday someone is at St. Anthony to pray the Rosary at 5:30pm and everyone is invited to join online for this powerful and needed prayer. Pray with us. Together we can impact the world.

Reconciliation: Confessions are scheduled for 9AM Saturday Mornings (English), or by appointment and Spanish - Tuesdays and Thursdays at 6:00pm to 6:50 and Sundays 12:30 to 12:50.

Funerals: Please contact a funeral home and they will notify the parish office. Social distancing protocols must be maintained.
Parish Office Hours: Monday - Thursday 8AM to 4PM, Friday 8AM to Noon. Parish Phone 515-244-4709
INGITE Campaign
St. Anthony will soon participate in the IGNITE Campaign. The focus of the campaign will be to improve access to Catholic education, increase funds for seminarian education and priest retirement, and to invest in all our parishes. This milestone fundraising effort is the result of many months of prayer and preparation. All 80 churches in our Diocese will take part. It is designed to benefit all Catholics in Southwest Iowa. Our parish is participating this spring, and preparations are beginning this winter. We need many volunteers to assist our parish for this campaign to be successful. If you are interested in volunteering and helping, please contact Mark Paris in the parish office for additional details.
Please Pray For:
Monsignor Chiodo
Bill Best
Helen Coe
Nancy Chiodo
Eugene M. Becker
Thomas A Renda
Ruth Ann Woodward
Lori Tibbitts
Jose Antonio Casillas
Theresa Marie Serra
Lois Eline Carney
Welcome to St. Anthony Parish
Week of July 3, 2022

Brothers and Sisters,

This weekend we welcome Fr. Adrian Ichaka to give a missionary appeal to St. Anthony's. Hopefully, I'm taking a break this weekend.

We also welcome Fr. Rodrigo Mayorga Landeros as the new priest providing a spiritual and pastoral presence here at the parish. Fr. Mayorga was ordained on June 24th by Bishop Joensen. He is originally from Mexico, but moved to Osceola as a child. His assignment begins July 14th.

This month, two major decisions have come down from the Supreme Court affirming the Gospel. First is the Dobbs v. Jackson decision affirming that there is no such thing as a constitutional right to abortion. How can there be a right to eliminate one's own child; but for the crime of "inconvenience"? As you all know, the Catholic Church – everyone from our bishops to our youngest lay faithful – have been working tirelessly to overturn Roe v. Wade. Many people don't know that "Jane Roe" aka Norma McCorvey never had an abortion, repented of her role in the abortion movement, worked to overturn Roe, and died a faithful Catholic. While we rejoice that our nation is a step closer to recognizing the sanctity of all human life, there is still much work to be done – including passing the protect life amendment here in Iowa. Also, we will always need to support our crisis pregnancy centers, such as Innervisions on Army
Post. But, we must always support the women we care about to make healthy decisions with their lives and promote the virtue of chastity and not the vice of lust our world is so enamored of.

The Supreme Court also released their Kennedy v. Bremerton decision that allowed for freedom of prayer in public settings, including schools. As you've heard me say numerous times, the First Amendment to the US Constitution states freedom of religion before freedom of speech. Speech, assembly, and the press are all consequences of freedom to behave in public according to our sincerely held religious beliefs. This decision allows people to more freely be who they are as faithful instead of the forced imposition of atheistic secularism that has been the unjust status quo in our schools and encroaching everywhere in our society.

Next weekend will be my last in the parish. There will be farewell events for me after all of the masses in the lower church. Please come and say farewell!

God Bless You,
Fr. Guthrie Dolan
Have you made your ADA gift yet? EVERY GIFT HELPS, no matter how large or small. If you haven't yet made your gift,



We are so very close to our goal now - Only $18,000 more to go. Please, please help us get over the hump so we do not have to take this money out of our operating budget!
Upcoming Parish Events

Consecration to Our Lady -
We started preparation on June 13 to consecrate ourselves and our Parish on July 16 on the feast of Our Lady of Mt Carmel.


Symbolon
Living the faith explores how Jesus gave
us the Sacraments, the Mass, and the rich treasures of Church teaching to enliven our faith and bring vibrancy to our Catholic lives. Join us to watch the
series and discover how to practically live your faith. JOIN US IN THE SMALL GROUP! WE START JULY 6th 7:00pm – 8:30pm CONFERENCE ROOM IN RECTORY. REGISTER OR INFORMATION CALL OFFICE: (515)244-4709, HILDA RAMOS: (515)770-1792
Knights of Columbus Pancake Breakfast - Sunday, July 10 Lower Church

St. Anthony School 110 Year Celebration! Saturday, August 20 -

click here for more details
You are cordially invited to attend the Inaugural Bishop's
Celebration of Catholic Schools dinner at St. Thomas Aquinas Catholic Church in Indianola, Iowa. / Tickets visit
dmdiocese.org/catholic- schools/support or call
515-237-5079

The Diocese of Des Moines will announce this year's
honorees for teacher, administrator and volunteer of the year! These individuals will be honored for their
exceptional service to Catholic education during the
inaugural Bishop's Celebration of Catholic Schools.

One of this year's honorees include: Administrator of the Year—Des Moines Metro Jennifer Raes, St. Anthony Catholic School.
Download Our Parish Mobile App Today!
Just snap a photo of the QR code to the left on your mobile device, and it will take you to the appropriate MyParish mobile app download for your particular phone - once the app is downloaded, it will automatically take you to the St. Anthony specific app.!
Pastor's Corner - Join the New Evangelism with Monsignor!

Monsignor's Chiodo wants to give you many ways to experience worship and deepen your faith at St. Anthony Parish:

First, we have a live feed from St. Anthony for anyone wishing to view. With the Pandemic situation, we have Masses live on a daily basis including Sunday, as well as other services.
Next we have short faith filled videos called "Heart's Journey" that are being produced each week. Mini sermons - Why? Fewer and fewer people go to church, yet they are online. Monsignor wants to reach them.
Next, we have short Blog posts from Monsignor on various topics of Worship, and also Blog posts on important topics/people/updates within our parish family.
Finally, we have Audio Podcasts available to deepen your faith.
Join Monsignor in the mission for souls!
Use these links and pass them on to friends and family!
Our Mission Statement: To make life-long disciples, baptized in the name of the Father, the Son, and the Holy Spirit, and teach them in all aspects of the One, Holy, Catholic, and Apostolic Church.