WEEKDAY MASS TIMES
Monday - Saturday 8:30am English
Tuesday - Friday 7:00pm Spanish
Daily Masses can also be viewed online
SUNDAY MASS TIMES
Sat. Vigil Mass: 4:00pm
Sunday Mass Times:
8:00am English Church
8:00am Spanish Parish Hall
9:30am
11:00am
1:00pm Spanish
5:00pm Latin (EF)

The 11AM, and 1PM Spanish Mass can be viewed online

Rosary Prayed Online every day at 5:30PM, 3PM on Sunday

Eucharistic Adoration: In the Adoration Chapel beginning at 9:15AM every Tuesday, Wednesday, & Thursday. Please pray for God's mercy and healing. Pray for protection and for those that are ill.

Rosary: Daily 5:30PM English, Faithfully everyday someone is at St. Anthony to pray the Rosary at 5:30pm and everyone is invited to join online for this powerful and needed prayer. Pray with us. Together we can impact the world.

Reconciliation: Confessions are scheduled for 9AM Saturday Mornings (English). Spanish Confessions 12:30-1PM Sundays, and Tuesday & Thursday in the school in the school parking lot. Priests are normally available after weekday Mass for an unscheduled Confession. Confessions can always be scheduled by appointment.

Funerals: Please contact a funeral home and they will notify the parish office. Social distancing protocols must be maintained.
Parish Office Hours: Monday - Thursday 8AM to 4PM, Friday 8AM to Noon. Parish Phone 515-244-4709
Theresa Marie Hagarty
Sophia Winter
Rose Mary Soda
Charles A Caligiuri
Mini Elnaggar
Paul H Jr. Gillispie
Please send your prayer request to:
Info@stanthonydsm.org or call the parish office at 515.244.4709
What's Happening in the Parish?!
Join Monsignor In Prayer:
Welcome to St. Anthony Parish

Week of Sunday, October 25, 2020

Dear Parishioners,

The Food Sale last weekend was a great success and I want to thank all of you who helped to put it together and to all of you who bought food. This is a wonderful project. Fr. Reynaldo also wants to say thank you... "I want to thank EVERYONE for your support of the tamales Food Sale that benefited the San Oscar A. Romero Major Seminary in El Salvador. Our help will benefit many generations of seminarians and future priests, not only in Central America, but also in many other countries, as is my case. Bishop Elías Samuel Bolaños from the diocese of Zacatecoluca where I came from sent a letter of gratitude for all the work and dedication that St. Anthony carries out each year to make possible this activity-- and he sends us his blessing--Thank you."

I also want to encourage you to consider leading the daily Rosary. In the bulletin and enews is information about how you can be involved in this important project.
Praying the Rosary in this day and age is what we must all consider doing and joining others in praying the Rosary is even more powerful. I hope you will prayerfully consider taking a day each month.

This is the last weekend to sign up to receive a St. Vincent de Paul food basket so if you know of someone who is in need, please let them know. Giving to this project is giving to our Lord and if you would like to help, again, see the bulletin for more information.

Finally, thank you to all who have continued to give in your tithes. During these challenging times, it is even more important to come to church, pray and participate in giving to the Church.

Monsignor Frank E. Chiodo
Pastor
Feast of All Saints & All Souls
ENGLISH MASS
All Saints November 1
Saturday Vigil 4:00pm
8:00am, 9:30am, 11:00am, 5:00pm Latin
All Souls November 2
8:30am & 6:00pm Latin (EF)

SPANISH MASS
All Saints November 1
8:00am (parish hall), 1:00pm (church)
Dress-up your child and yourself as a Saint to come to
Mass receive a Certificate for your participation.
All Souls Mass November 2
7:30pm (Starting October 4, Spanish Mass will have
envelopes out for All Souls Day) Mass
St. Vincent de Paul Holiday Baskets!
The Society of St. Vincent de Paul of St Anthony Church is asking for your help. Each year, our group distributes 50 baskets of food to families in need for Thanksgiving and Christmas. St. Vincent appreciates any contributions that you are able to make. Please place your contributions in the envelopes provided at the entrance of the church which are labeled TURKEY FUND and then place the envelope in the basket for Sunday Offering or please take your contribution to the business office. St Vincent de Paul is very thankful for your donations and God Bless.
Continued Giving:
Many people have contacted us asking how to make their weekly tithing contribution and/or ADA contribution when Masses are cancelled. We encourage parishioners to utilize our online giving program. Look for the green dollar sign in the top right corner of this page and click to go to our online giving page. You can also mail to:


St. Anthony Church,

15 Indianola Rd.

,

Des Moines, IA 50315



NEW...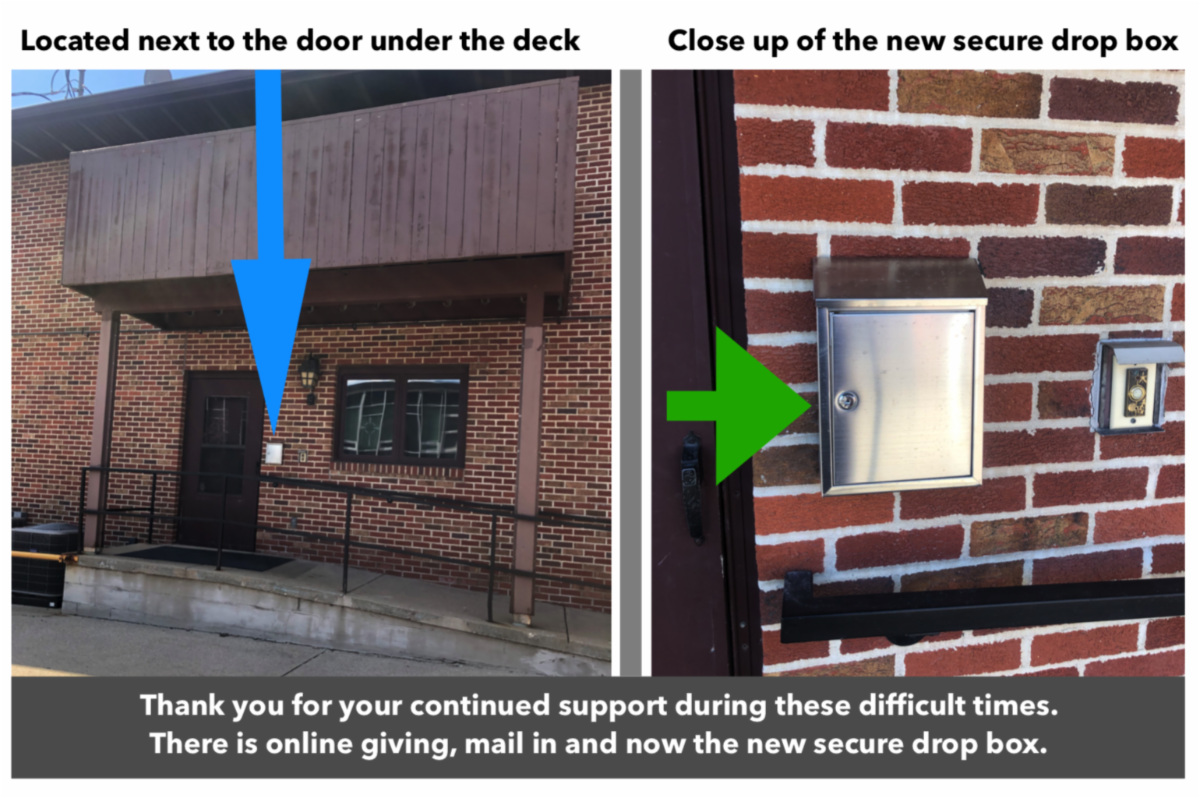 There is a new secure mail box located on the north side of the Rectory next to the door (under the deck, up the ramp) if you would like to deliver a donation.

We would like to thank all of you who continue to make your weekly or monthly donations to our great parish!

We appreciate your generosity!
Download Our Parish Mobile App Today!
Just click on the icon to the left, download the appropriate version of the app, open and search for St. Anthony Catholic Church, save it as your favorite, and you're done!
Pastor's Corner - Join the New Evangelism with Monsignor!

Monsignor's Chiodo wants to give you many ways to experience worship and deepen your faith at St. Anthony Parish:

First, we have a live feed from St. Anthony for anyone wishing to view. With the Pandemic situation, we have Masses live on a daily basis including Sunday, as well as other services.
Next we have short faith filled videos called "Heart's Journey" that are being produced each week. Mini sermons - Why? Fewer and fewer people go to church, yet they are online. Monsignor wants to reach them.
Next, we have short Blog posts from Monsignor on various topics of Worship, and also Blog posts on important topics/people/updates within our parish family.
Finally, we have Audio Podcasts available to deepen your faith.
Join Monsignor in the mission for souls!
Use these links and pass them on to friends and family!
Our Mission Statement: To make life-long disciples, baptized in the name of the Father, the Son, and the Holy Spirit, and teach them in all aspects of the One, Holy, Catholic, and Apostolic Church.