WEEKDAY MASS TIMES
Monday - Saturday 8:30am English
Tuesday - Friday 7:00pm Spanish
Daily Masses can also be viewed online
SUNDAY MASS TIMES
Sat. Vigil Mass: 4:00pm
Mass: 8:00am
Mass: 9:30am
Mass: 11:00am
Mass: 1:00pm Spanish
Mass: 5:00pm Latin (EF)
The 11AM, 1PM, and 5PM Masses can be viewed online

Rosary Prayed Online every day at 5:30PM

Eucharistic Adoration: In the Adoration Chapel beginning at 9:15AM every Tuesday, Wednesday, & Thursday. Please pray for God's mercy and healing. Pray for protection and for those that are ill.

Rosary: Daily 5:30PM English, Faithfully everyday someone is at St. Anthony to pray the Rosary at 5:30pm and everyone is invited to join online for this powerful and needed prayer. Pray with us. Together we can impact the world.

Reconciliation: Confessions are scheduled for 9AM Saturday Mornings (English). Spanish Confessions are Tuesday & Thursday in the school in the school parking lot. There are no Saturday afternoon or Sunday Confessions scheduled. Priests are normally available after weekday Mass for an unscheduled Confession. Confessions can always be scheduled by appointment.

Funerals: Please contact a funeral home and they will notify the parish office. Social distancing protocols must be maintained.
Parish Office Hours: Monday - Thursday 8AM to 4PM, Friday 8AM to Noon. Parish Phone 515-244-4709
What's Happening in the Parish?!
Welcome to St. Anthony Parish

Sunday, Agust 2, 2020

Dear Parishioners,

Who of us at times does not suffer from worrying? We are beginning to discover the
intricate relationship between emotional stress and physical illness.
Jesus reminds us of the power of prayer— the medicine that counts: "Come by
yourselves to an out-of-the-way place and rest a little."

Sometimes people tell me they cannot find privacy for prayer. We MUST search for that prayer time and place. We thirst for the strength that comes only from our prayers—our conversation and communion with the Lord.Be creative and search for a prayer place to spend some precious moments each day with the Lord. I guarantee you will find yourself coping better with worries, strengthened to face the trials of
life, and encouraged to keep on trying rather than escaping.

Worrying can have a strangle hold on your life. There are two golden days about which I try never to worry—yesterday and tomorrow. Those days belong to God; therefore; that leaves me only today. And with God's help, this day will be a blessing.
Anyone can fight the battles of just one day. It is only when we add the burden of those two awful eternities (yesterday and tomorrow) that we break down. Those are God's days. Leave them with Him. I will journey just one day at a time and pray, realizing that He is with me—-now— to heal me of the wounds of the past, and strengthen me for the days ahead.

I want to announce the appointment of Anne McFall as parish trus tee. Anne is taking Julie Konkols' place. We thank Julie for her faithful service as trustee and we look forward to Anne joining Dave Miller (currently trustee) in this important duty.

God bless

Monsignor Frank E. Chiodo
Pastor
Join Monsignor In Prayer:
Continued Giving:
Many people have contacted us asking how to make their weekly tithing contribution and/or ADA contribution when Masses are cancelled. We encourage parishioners to utilize our online giving program. Look for the green dollar sign in the top right corner of this page and click to go to our online giving page. You can also mail to:


St. Anthony Church,

15 Indianola Rd.

,

Des Moines, IA 50315



NEW...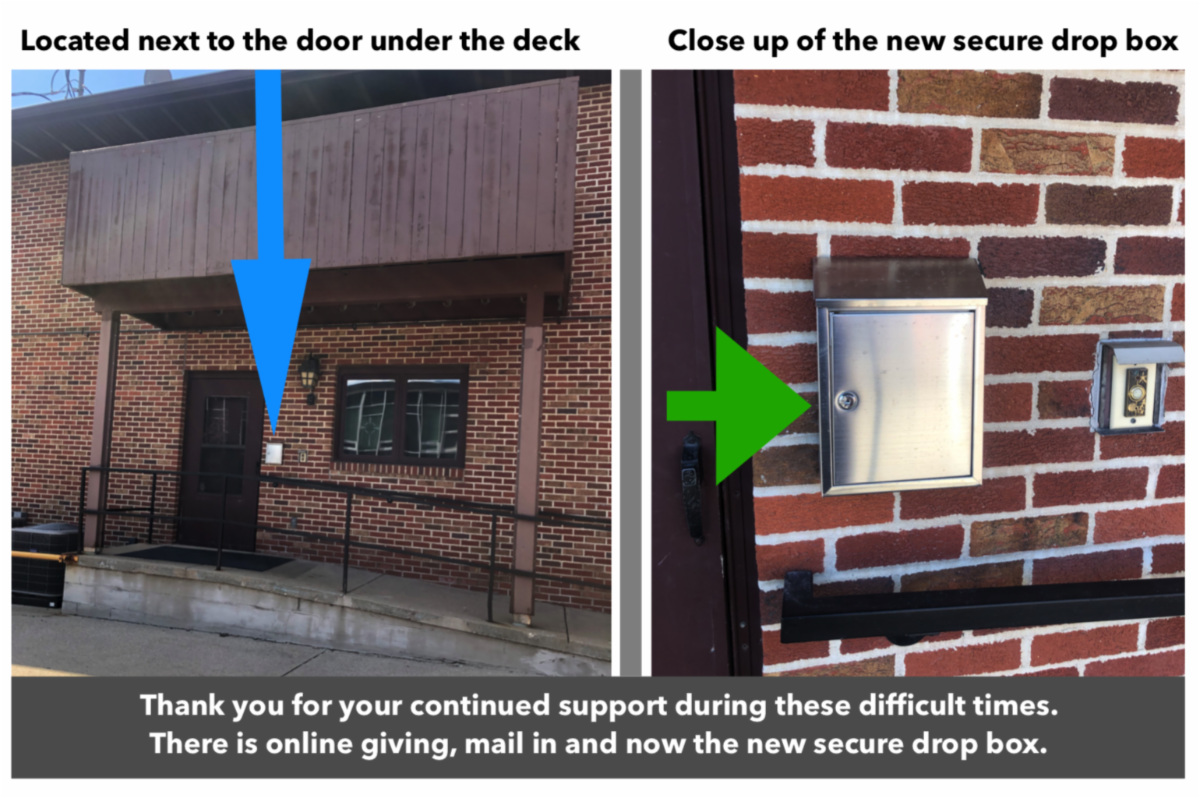 There is a new secure mail box located on the north side of the Rectory next to the door (under the deck, up the ramp) if you would like to deliver a donation.

We would like to thank all of you who continue to make your weekly or monthly donations to our great parish!

We appreciate your generosity!
Download Our Parish Mobile App Today!
Just click on the icon to the left, download the appropriate version of the app, open and search for St. Anthony Catholic Church, save it as your favorite, and you're done!
Pastor's Corner - Join the New Evangelism with Monsignor!

Monsignor's Chiodo wants to give you many ways to experience worship and deepen your faith at St. Anthony Parish:

First, we have a live feed from St. Anthony for anyone wishing to view. With the Pandemic situation, we have Masses live on a daily basis including Sunday, as well as other services.
Next we have short faith filled videos called "Heart's Journey" that are being produced each week. Mini sermons - Why? Fewer and fewer people go to church, yet they are online. Monsignor wants to reach them.
Next, we have short Blog posts from Monsignor on various topics of Worship, and also Blog posts on important topics/people/updates within our parish family.
Finally, we have Audio Podcasts available to deepen your faith.
Join Monsignor in the mission for souls!
Use these links and pass them on to friends and family!
Our Mission Statement: To make life-long disciples, baptized in the name of the Father, the Son, and the Holy Spirit, and teach them in all aspects of the One, Holy, Catholic, and Apostolic Church.