Welcome to Children's Faith Formation at St. Anthony Parish!
We offer a comprehensive parish Religious Education program, with classes from K-8th grade. For grades 1-8, we use a curriculum developed by Our Sunday Visitor, a trusted name in Catholic publishing since the early 1900s.
Registration for the 2017-18 Religious Education has begun! We are proud to offer K-8 grade catechism from the series, Alive in Christ.
Feel free to look at this curriculum at
www.osvcorriculum.com
This program, Alive In Christ, features the following:
Jesus Christ is at the Center
Alive in Christ is intentional in its focus on the life, mission and saving work of Jesus Christ. This lays the foundation for a lifelong relationship with Jesus, who "...alone can lead us to the love of the Father in the Spirit and make us share in the life of the Holy Trinity"(CCC 426).
Building Knowledge of, and Reverence for, Sacred Scripture
Sacred Scripture from both the Old and New Testament is presented in ways that encourage students to learn about the people and stories of the Bible and listen to the voice of God.
Comprehensive Presentation of Catholic Teaching
Alive in Christ provides a comprehensive and systematic presentation of the Catholic faith. Key themes of Catholic teaching are repeated each year through a grade-level lens, building on the child's knowledge of the faith at each developmental stage.
Unique and Effective Pedagogy
Mirroring the divine pedagogy, each lesson begins with God's invitation through Sacred Scripture and leads children to reflect on his Word, study it in Sacred Tradition, and respond with a lived faith.
...And much more!
Alive In Christ has a fantastic website that gives Catechists and parents a wealth of information and ideas to bring to life the Faith we love. Check it out at
http://aliveinchrist.osv.com/.
Our K-8 program meets on Sunday mornings from 9:45-11:15, which is convenient for family attendance at the 8:30 or the 11:30 Mass.
You can access the PRE calendar for 2017/18 here:
calendar
If you feel called to share your love for our Lord and our Church, there are still catechist and assistant opportunities for this fall. You will receive training and support, and will be blessed tenfold! Please contact the parish office for more details.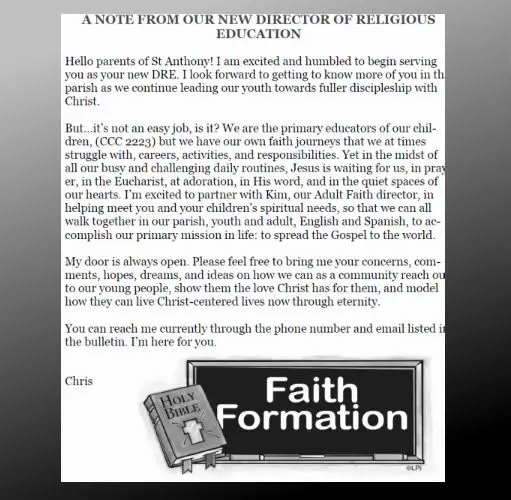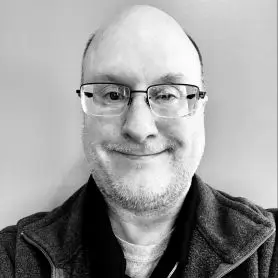 Please welcome Mr. Chris Corrice as our new Primary School Religious Education Director. Chris will also oversee the Confirmation Class, Youth Group, and Sunday Liturgy of the Word for Children. Chris is excited to expand his ministry with the parents and children of St Anthony's. He has been serving the parish in youth ministry for the past two years. He also is a member of the pastoral council and MCs at the Spanish mass. He is a graduate of Mundelein Seminary's program of Hispanic leadership in lay ministry. He has studied youth ministry and parish integration at the University of Notre Dame and holds a BA in business administration/management from William Penn University. He is married with two children. His interests include technology and science fiction.